Description
Go live date 15-2-2021 13:00h CET
100+ Super High Quality air samples, all seamlessly loopable (forward and reverse). For generating real sounding air-sounds and wind ambiances!
4 Oscillators are at your fingertips for creating amazing ambiances (device mode: Split keys Off/On) and synth sounds (device mode: Synthesizer On).
150+ patches to get you started!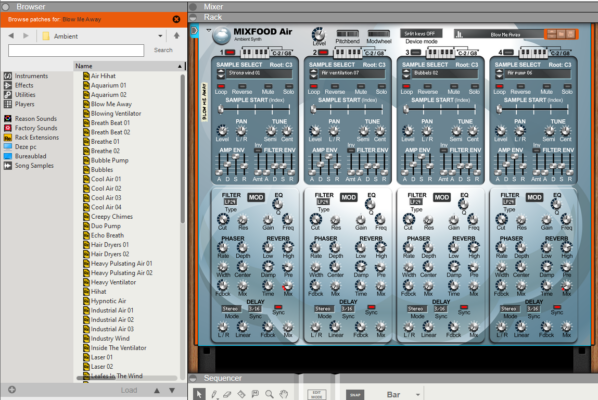 All oscillators have their own filters, effects, EQ, LFO and envelopes.
The modulation matrix consists of multpile sources en destinations. Use one of the patches to get started or start from scratch creating the most beautiful ambient (air/wind) soundscapes. Put the device in Synthersizer mode and create amazing and unique synth sounds. Because the 'wavetables' are stereo samples you can create very dynamic sounding music with Mixfood Air.
4 Elements
Mixfood Air is part of a series of 'The 4 Elements'; Water, Fire, Air and Earth. By combining all 4 elements (using a combinator) you can create a ambiance of up to 16 oscillators. Combine the flowing sounds of water from Mixfood Water with beautiful nature sounds  from Mixfood Earth. Then mix them together with some windy samples from Mixfood Air and finally add some crackling fire sounds from Mixfood Fire. With the 4 Elements combined you are never done creating unique soundscapes!